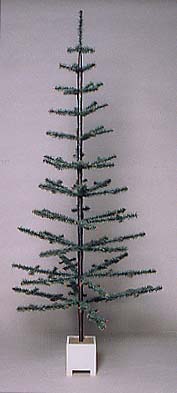 When we started making feather trees, the 6' feather tree was the first floor size tree we reproduced. It has always been a
popular tree for display. It has 11 rows of branches and a 37" diameter. There are 96 side limbs on the tree.


Choose dark green, mint green or winter white. Base choice includes red/green holly stencil on white, or a gold band on red or white base.


The base is wood with four small feet and a recessed top. This tree comes in two sections.

Also available in standard version with 11 rows of branches, a 33" diameter and 48 side limbs.

Elaborate tree price: $620.00
Standard tree price: $520.00

For seasonal colours add $35.00 to the above price.