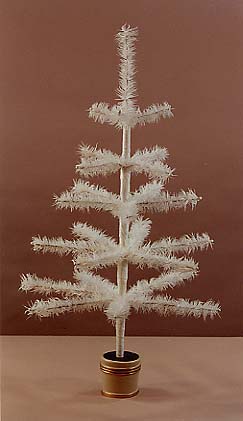 Although 24 inches tall, this tree has 5 tiers, so it has a 'not-quite-as-sparse look' as the 24 inch feather tree. It has a 14 inch diameter and is available in dark green, mint green and winter white. This tree adds a festive touch to any holiday table.

Choose a square base painted in olde world white with a green and red holly stencil or a gold band. Or we will paint it red with a gold band. Also available in a round base in white or red with a gold band.

Square base price $103.00
Round base price $108.00

For special seasonal colours please add $6.00 to the above price.