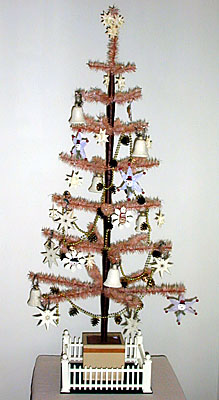 We designed this tree colour because
we wanted the colour of a midwest farm land. It was originally intended for the autumn season but became a Christmas favorite as well. The tree almost has the appearance of an antique white tree and looks great with the red and green colours of December.

Decorate this tree in late August with the
earthy tones of summer's end and be sure
to change it to a frosty, white display in
early January when the snows begin.

Pictured is a 45" standard tree with 7 rows of branches and a 20" diameter. The feathers are a faded brown and the berries are white. We suggest a base in antique white with a gold band. All sizes are available.

Fall Harvest Tree

$ 209.00

For fence details, frosty ornaments (pictured), and fall harvest ornaments, please visit the Holiday Accessories option.