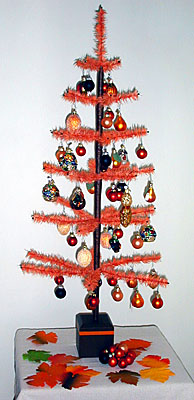 The black/orange tree for Halloween has
always been a favorite among our customers. However, we recently had a request for a Halloween tree with orange feathers only. So we made this tree and it not only looks great with a collection of Halloween ornaments on it but it also is perfect for ornaments pertaining to the autumn season.

The tree has feathers that are a deep burnt orange and the berries are brown. The base is painted a softened orange colour with an 'acorn' green band. This tree is 36" tall with a diameter of 18". There are 6 rows of branches. All sizes are available.

36" Indian Summer Tree

$ 163.00

The ornaments are detailed in the Holiday Accessories section.